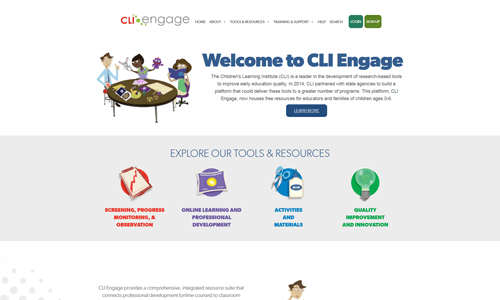 Education and Child Development Software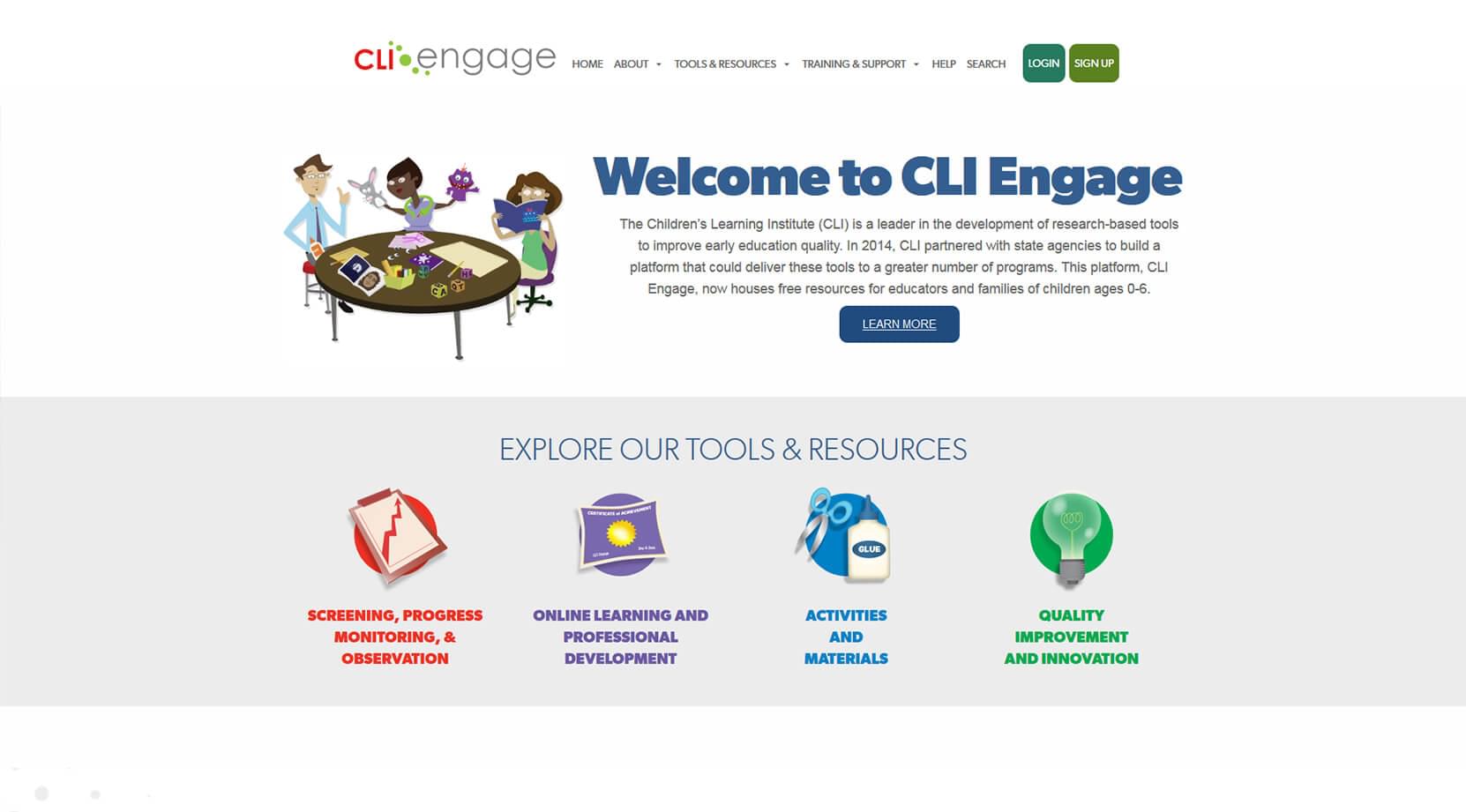 Formed in 2003, The University of Texas Health Science Center's Children's Learning Institute combines data and studies from the fields of psychology, neuro-development, education and child development to provide proven learning solutions derived from, and supported by, documented research.
UT Health CLI provides clinical assessment, diagnosis and treatment of learning disorders to enhance a child's home and learning environment. The Children's Learning Institute mission is to create a quality learning environment for all children through classroom curriculum, teacher mentoring, clinical programs and applied research, with the goal that every child is equipped to learn and succeed.
UT Health CLI has been working for 10 years with the Texas School Ready! (TSR!) Project to improve teacher effectiveness and school readiness for at-risk children. The TSR! Project technology includes a number of components:
Benefits of the CLI/ Engage system:

20 professional development courses using text, video demonstrations and assessments

Discussion boards and collaboration tools

Child Assessment tools – including tests that link to professional development resources?

Observational assessment tools to monitor teaching behaviors

Remote coaching tools including video editing software and secure file sharing

Management database to track participants, materials and reports supporting project management
UT Health CLI / Engage objectives:
UT Health CLI sought to expand the Texas School Ready! (TSR!) Project to reach more communities, classrooms and students by reducing the cost to deploy with less reliance on third party software with a more integrated system. The Texas School Ready! Project goals are to improve teacher effectiveness and school readiness. UT Health CLI sought to integrate separate tools in order to provide a system to support professional learning, coaching for teachers, and assessment systems for students.
UT Health CLI was seeking a firm with experience and methodologies in web applications, security, database, quality assurance and project management.
UT Health CLI selected SunNet Solutions, as a premier Web application development and information technology provider delivering quality IT solutions.
The system SunNet developed for UT Health called CLI/Engage is designed to improve teacher quality, school readiness for at risk children, and the ability to serve more students and teachers at a reduced cost.
Benefits of the CLI/ Engage system:

An integrated system with common user interface integrating learning management, collaboration tools, child assessment, and observational tools to assess the teachers' quality and students' academic achievement.

Powerful reporting that provides statistical data to measure the impact and improvement for teachers and students.

Eliminates the need for four separate systems providing users with a common interface and common information repository. The CLI/Engage system has also eliminated the need for costly, third party software providing a more productive, lower cost and easy-to-use system.

The system provides toolboxes to generate reports, customer queries and export data from the system. 
The system includes several powerful components:

Assessment Development Environment (ADE) is used to manage assessments, measures and items. The CLI development team create and manage the assessments mentioned above in the ADE module to coach and mentor teachers.

Teacher Assessment supporting workforce development and evaluations, to improve the quality of child care services through licensing and certifications.

Learning Management System (LMS) used by teachers and their coaches to target areas to update skills based on outcomes of teacher assessment. The Teacher/Coach team enroll and complete courses in order to improve their teaching/instructing skills and quality. Courses are also provided for administrators and parents.

Video recording and collaboration tool used between Project Manager and Coaches, Coaches and Teachers to monitor the teaching quality and provide improvement recommendations. The coaches review videos of teachers conducting classes as a tool to provide feedback on areas for improvement. The tool may be used offline when no internet access is available.
The following diagram shows integration of system components: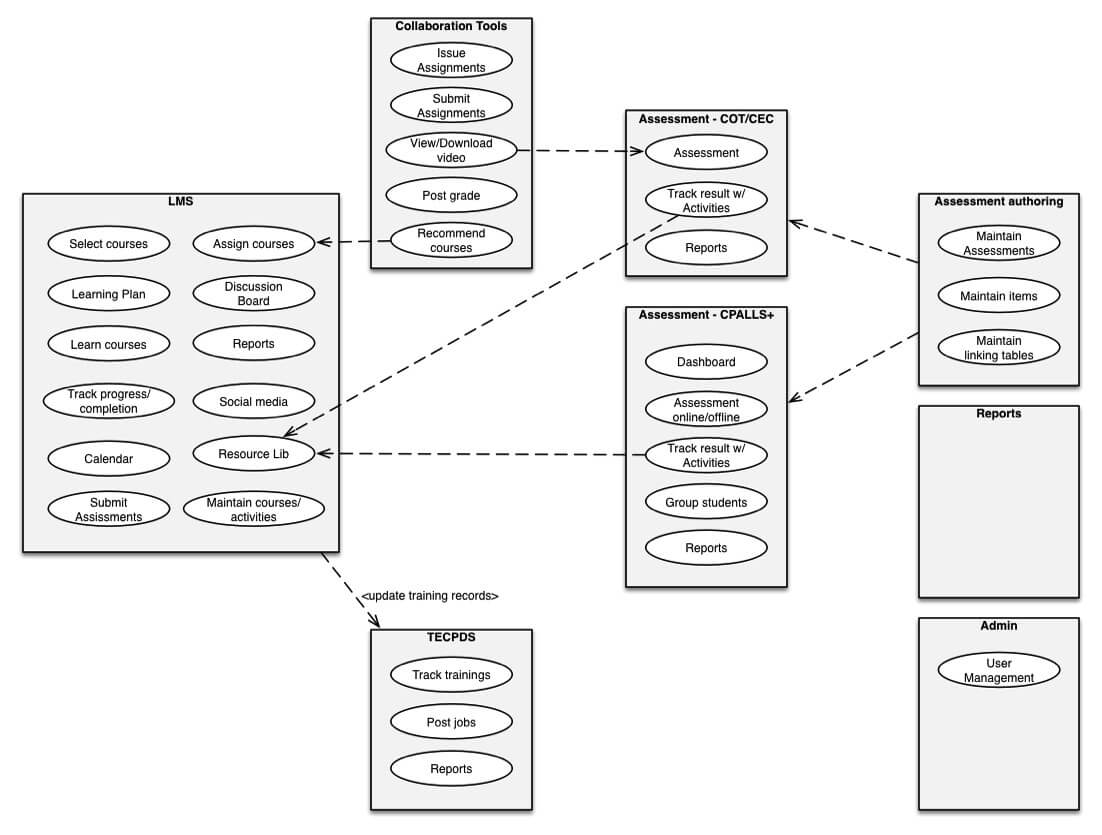 The system is now being deployed throughout the State of Texas Independent School Districts.
References:
University of Texas Health Science Center at Houston, Texas Children's Learning Institute link:
http://www.childrenslearninginstitute.org/
UT Health RFP No. 755-1410 CLI Engage System Design and Implementation, December 10, 2013 by Angela Rodriguez.
What would you like SunNet Solutions to build for your business?
Submit a request at the left hand side of this page to get started today.
Contact us if you have any questions.